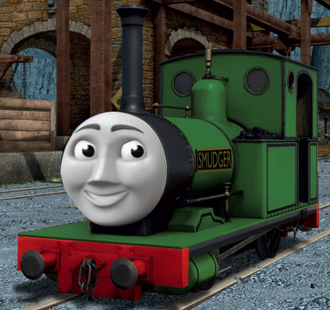 Smudger
is a narrow-gauge tank engine. During his days at the Mid-Sodor Railway, he was a show-off who rode roughly and often came off the rails. Duke tried to warn him to be careful, but Smudger never listened to his advice. He was finally punished by being turned into a generator and being put behind the engine shed.
When the Mid-Sodor Railway closed, some people came to buy Smudger for their Narrow Gauge Railway in England. He was still a generator there until the people who bought him raise enough money to turn Smudger back into an engine. He already learned from his mistakes during his time as a generator, became a better engine and rode much better then he did back at the Mid-Sodor Railway.
Smudger along with Duke are best friends with Button Mash. A few years later, Sir Topham Hatt bought Smudger for the Skarloey Railway, but the Skarloey engines were on their adventures around the world, so Smudger had to find them until he did when they were with Tod the fox and told the engines what happen to him. Duke however, didn't trust him until Smudger saved him from almost falling off a cliff. Now Smudger is considered to be a member of the Skarloey Railway and assists of helping the Skarloey engines stay focused and only engage in a fight as a last resort.